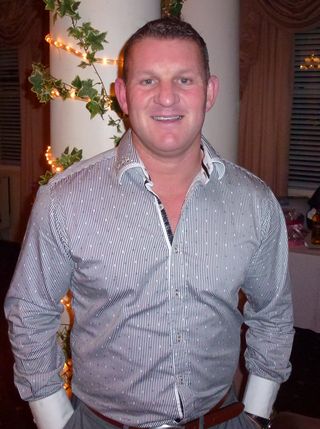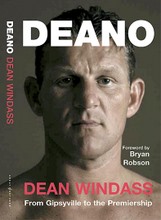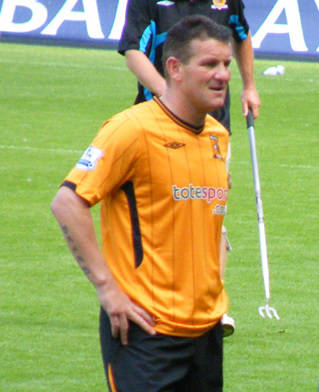 Copyright © 2013 by "Mark Davis" · All Rights reserved · E-Mail: mark@afterdinnerworld.co.uk
Dean Windass was born on April 1st 1969 so its no surprise he was always the joker in the pack! He is best known for his spells at Bradford City and contributing to his hometown team Hull City's promotion to the Premier League in 2008.

Dean started his football career as a trainee at his hometown club, Hull City, and signed his first professional contract there. He scored 64 goals in 205 games for Hull, and, when he left, he brought the club a record transfer fee at the time, going on to play in the top divisions in both English and Scottish football. Later in his career, he returned to Hull City, and scored the only goal of the 2008 Football League Championship play-off final to take them to the top flight for the first time in their history.

He also had two spells at Bradford City, where he became the club's third-highest scorer of all time. He has also played for Aberdeen, Oxford United, Middlesbrough, Sheffield Wednesday, Sheffield United, and Oldham Athletic. He is seen as a controversial player, once being sent off three times in a game for Aberdeen, as well as grabbing another opponent's testicles in a match at Bradford City.

Dean scored his last Premier League goal at the age of 39, becoming Hull City's oldest-ever scorer. He officially announced his retirement from the game on 19 October 2009 but has kept playing at a local level since.

Dean still intends to move into a coaching / managerial role and is regularly touted as prime candidate within many clubs.
Dean Windass
Years Team Apps (Gls)

1990-1991 North Ferriby United
1991-1995 Hull City 176 (57)
1995-1998 Aberdeen 73 (21)
1998-1999 Oxford United 33 (15)
1999-2001 Bradford City 74 (15)
2001-2003 Middlesbrough 37 (3)
2001 Sheffield Wednesday (loan) 2
2002 Sheffield United (loan) 4
2003 Sheffield United 16 (3)
2003-2007 Bradford City 142 (60)
2007 Hull City (loan) 18 (8)
2007-2009 Hull City 42 (12)
2009 Oldham Athletic (loan) 11
2009 Darlington 6 (0)
2010 Barton Town Old Boys
2010-2012 Scarborough Athletic
2012-2013 Walkingham
Career Stats